Chapter 5 - A Lovable Mob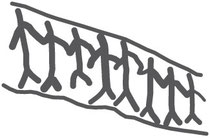 When I came to Australia for the first time, it wasn't just the extraordinary scenery and the exotic flora and fauna that mesmerized me but also the otherness of the people – their positive attitude to life, their friendliness, their unselfish willingness to help, their openness towards strangers and last but not least their frequent usage of the words »no worries« – a phrase the Australians not only repeat constantly but also really seem to mean...
The first Australian I heard uttering the magic words »no worries« was Millie from the Exford Hotel. The Exford Hotel isn't a hotel but a noisy corner pub that offers backpacker accommodation right in the city centre of Melbourne. After an endless 42 hour flight with Olympic Airways, involving several lengthy stopovers in various Greek towns that I wasn't even aware existed, we arrived at Melbourne's airport in the late afternoon. It was the first time we stepped onto Australian ground. Our travel guide book contained a list of backpacker's in the city centre, so we took the shuttle bus and as soon as we were surrounded by skyscrapers, shouldered our backpacks – each the equivalent weight of an elephant baby – and trudged off into the foreign world.
I can't remember how many hostels, backpacker's and even hotels we tried but the message was always the same »no rooms available«. Utterly exhausted we finally reached the Exford Hotel. The small office was chock-a-block with people and abuzz with different languages. The young woman behind the desk was serving at least half a dozen people at the same time. She handed out keys, wrote receipts, answered the phone and informed the guy in front of us that his backpack was locked away in the second room on the third floor.
After half an eternity it was our turn. »A room?!« She exclaimed in such astonishment as if we had asked her to strip down. »No way – we are booked out«. Although her devastating announcement left not much room for hope and speculation we made no move to leave but kept staring at her in despair until she started to study a large room plan on the wall. »I can give you a room for tomorrow.« She offered, and then, after another look at us, added »You have just arrived in Australia, haven't you?« It was more a fact than a question but we nodded vigorously. Then we told her, in the poorest English she had probably ever heard, about the many other places we had already tried in vain. »Okay« she said like someone who is used to making decisions for other people, »I will book you in for tomorrow and we'll find you another backpacker's for tonight.«
Before we understood what she meant by »we« she was already on the phone, ringing one competitor after another, and we heard her saying about a dozen times »Hi, this is Millie from the Exford Hotel. I am just wondering whether you have a room available for some wretched looking Germans who are about to collapse in my office.« She might not have used the words »wretched« and »collapse« but that was the gist of it. During all that time we were persistently blocking the entrance to her small office to make sure nothing would keep her from doing what she was doing until we finally heard her exclaiming »Oh, great. How much is it?« Then she covered the receiver and whispered to us, »Its 65 bucks. They are a bit expensive, but there are not many places left to ring. Do you want the room?«. We didn't have the faintest idea what »bucks« were (we had thought »Dollars« was the currency in Australia) but for the prospect of a room with a bed we would have paid in any currency asked for.
After settling the deal on the phone she unfolded a tourist brochure with a map of the city centre, took a pen and made a cross for the Exford Hotel and circled the place where we had to go. Then she dismissed us like two children on their first excursion without their parents with the simple remark »see you tomorrow«. When we thanked her profusely, all she belted out in her deep husky voice was »no worries«.